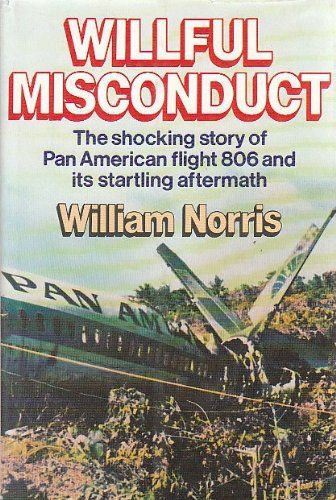 This is the story of Pan Am Flight 806 which crashed at Samoa in January 1974.
I read the book because I would have been on this flight with my mother and brothers if our travel plans back from Auckland hadn't changed. I hadn't realised this until my mother told me recently.
Unfortunately although all of the 101 passengers survived the crash, which occurred when the plane left its glide path and crashed into trees, only 4 survived the ensuing fire. This is truly the stuff of nightmares.
This was a period in which Pan Am was seeking to avoid going bankrupt in the wake of the 1973 Oil Crisis and within 5 months there were 2 other crashes elsewhere in the airline's Pacific network. It does seem clear that unacceptable risks were taken at this time and that Pan Am itself had a lot to answer for.
The book also tells the story of the trial which dragged on for some years in the US courts with much controversy. Norris also unearths some evidence that was hidden at trial. This is a shocking story where I feel a close connection to those who suffered.