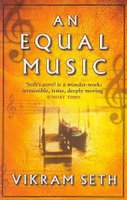 I enjoyed this story about a quartet even if I did want to take the leading male character to task more than once.
Seth asks the question about how a deaf piano player – the female lead character – would perform and even poses the question whether she might perform better, unconstrained by having previously heard others play.
"Surely what was lost so stupidly, so swiftly and in so short a time can be retrieved, redone, brought to life once more" – can it?